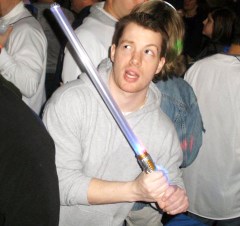 When are you on WBTI?
Every weekday morning 5:30-9:00 and Saturday 10:00am-2:00
 How long have you been in radio?
Seven and a half years, even though I look like I'm barely out of high school.
 Where are you from?
How far back we going, and what am I allowed to say? You know, just to be safe I'm going to self-edit: originally, ____  ________'_ _______. Currently, Hazel Park, Michigan.
What's your favorite place to hangout in Port Huron?
The Raven Cafe, no contest. Hands down the best Premature Burial a guy could ask for!
Relationship status?
I have a cat named Seren. Does that count?
Any pets?
Well, I guess that's what I get for not reading ahead in the questionnaire…
If you could only eat one food for the rest of your life, what would it be?
Bacon-stuffed bacon, with a side of bacon, drizzled with bacon. My second choice would be Coburn's cat, Pizzza.
What's your all-time favorite movie?
Scott Pilgrim vs. The World
Describe yourself in 3 words:
Tall, dark, inaccurate
Where would you live if you could live anywhere in the world?
Sydney! I studied abroad in Australia, back in the day and loved every second of it.
What's your most irrational fear?
That Marvel Studios will make a bad movie.
Top 5 favorite musicians/bands?
Nickel Creek, Rise Against, "Weird Al" Yankovic, Mumford and Sons, Huey Lewis and The News. But really, I'm a fan of any song I can sing to, in any genre.
If you could have any super power, what would it be?
Teleportation would sure help with the commute.
Do you have any weird talents?
Weird? None. I have a ton of eccentric talents, though.
Who is your biggest celebrity crush?
Pretty much everyone's celebrity crush: Jennifer Lawrence.
What TV shows do you watch religiously?
In no particular order, besides alphabetical: anything on Adult Swim, Archer, Arrow, Catfish, Doctor Who, Duck Dynasty, Face-Off, Game of Thrones, Ridiculousness, Supernatural, Walking Dead, and WWE's Monday Night Raw.
What's your most embarrassing moment?
I completely blew off Mitch Albom, the one and only time I ever met him. Here's hoping that doesn't come back to bite me!
If you could choose a theme song for yourself, what would it be?
Mr. Blue Sky – Electric Light Orchestra
Is there anything else we need to know about you?
I'm a big geek! Otherwise, nothing else comes to mind, but I'm sure something will pop up on my Twitter eventually. @con_radio