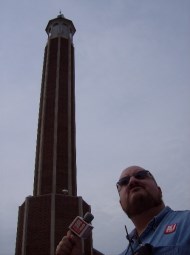 When are you on WBTI?
Weekdays 5:30am to 9am. UP AND AT 'EM!
 How long have you been in radio?
20 years. Officially I'm an antique.
 Where are you from?
Port Huron.
 What's your favorite place to hangout in Port Huron?
Since there's no Swedish Massage Parlor, the Brass Rail.
 Relationship status?
Got a girlfriend. That explains the gray hair.
 Any pets?
Two lovable St. Bernards named Murphy and Kayla.
If you could only eat one food for the rest of your life, what would it be?
Pizza. Yes, I'm a ninja turtle.
What's your all-time favorite movie?
Animal House. NOTHING compares!
Describe yourself in 3 words:
Slippery When Wet.
Where would you live if you could live anywhere in the world?
Under Katy Perry's pillow.
What's your most irrational fear?
Questionaires and surveys.
Top 5 favorite musicians/bands?
AC/DC. AC/DC. AC/DC. AC/DC. AC/DC.
If you could have any super power, what would it be?
sdrawkcab epyt ot rewop eht
Do you have any weird talents?
Aside from juggling hamsters? No.
Who is your biggest celebrity crush?
Betty White.
What TV shows do you watch religiously?
Survivor, Monday Night Raw, Walking Dead.
What's your most embarrassing moment?
Wearing nothing at birth. Talk about embarrassing!
If you could choose a theme song for yourself, what would it be?
Tubthumping by Chumbawumba.
Is there anything else we need to know about you?
I am not on the FBI's most wanted list.