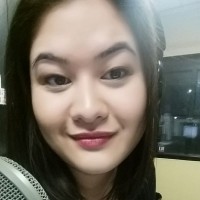 When are you on the air?
Wednesday through Friday from 6pm til midnight. I'm also here Sunday nights from 8 til midnight!
What do you like to do when you're not on the air?
I LOVE movies and if I'm at home, I'm probably watching a movie with a cat laying on each side of me and a video game in my hands.
Are you from Port Huron?
I am not! I was born and raised in central
Connecticut. It is very small and not shaped like a mitten.
Do you live in Port Huron now?
I currently live in Sterling Heights but my second home is quickly becoming Port Huron. I'm here a lot!
What's your favorite spot to hang out in Port Huron?
The Raven Cafe is the first place you should look for me.
What's your relationship status?
I'm engaged!
Who are your favorite artists on WBTI?
I've been known to serenade the other DJs with Bruno Mars. I'm also dancing to The Weeknd or rocking out to Twenty One Pilots. I listen to everything!
What's the best part about working on WBTI?
Everyone here is part of the team and will include you in the fun we have…  whether you like it or not!
And, the worst?
Working nights gets lonely. You can always hit me up on our social media and keep me company!
If you weren't in radio, what would you do for a living?
I have a hard time imagining not being in radio. I'd probably write a book or two? It's something I can also still do while I'm working in radio.
How long have you been in radio?
If you count school and podcasts, I've been around for 2 years since 2016.
What is your spirit animal?
It would be TOO easy to say a cat … but you'd be right.
Would you sky dive?
Sure- let's get some tattoos while we're at it. You wanna go this weekend?
What's your favorite color?
Gray
Who pays on the first date?
Whoever initiated the date! If I ask to go to lunch with someone, I will pay.
When was the last time you stayed up all night?
This happens more often than not- but I'm getting better!
Have you even seen a ghost?
No thank you.
If you had to live off one food, what would it be?
Vietnamese Pho. I sneak off to grab a bowl almost once a week. I don't have a problem – You do!
Anything else?
Michigan is still a great big world I haven't seen enough of! Be my Pocahontas and show me how to paint with the colors of the Michigan wind! Suggest fun things for me to do on Twitter @KatHoltzRadio!