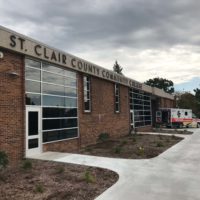 St. Clair County Community College officials announcing Thursday that several sections of courses will be moving form in person to online come Monday. The college previously announced that about two-thirds of their classes will be held in person on their Port Huron campus. Now only healthcare and engineering courses, as well as lab components of certain science classes, will he held in person. The rest will be a combination of full or partial remote learning. To see which SC4 classes have been moved from in-person to online, visit sc4.edu/coronavirus/. Monday is the first day of classes for the fall semester at SC4.
ORIGINAL STORY:
The fall semester at St. Clair County Community College begins Monday, with about a third of the classes being taught online, and the rest on campus. Vice President of Student Services Pete Lacey says to maintain proper social distancing, some of those classes will be moved out of classrooms, into larger venues. He tells WPHM some of those venues include Port Huron's Municipal Office Center and the Blue Water Convention Center, in the effort to promote safe social distancing. Visitors to SC4's campus, as well as faculty and staff, will be required to undergo a daily COVID-19 pre-screenings.
Meanwhile, Michigan State University will be all virtual, because of the ongoing pandemic. In a letter sent to students Tuesday, President Samuel Stanley says undergraduate students who planned to live in residence halls this fall to stay home and continue their education with MSU remotely. Stanley says that while a vast majority of classes already were offered in remote formats, they'll be working over the next two weeks to transition in-person or hybrid classes to remote formats. At this point Central Michigan is planning no changes to classes which involve both online and in-person learning. Saginaw Valley State University is also planning to continue with student move-in next week.