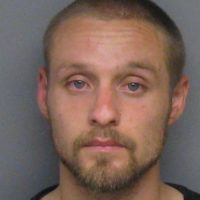 The Sanilac County inmate who fled from a work crew program last week has been found. Aaron Anthony Roll walked away from a job site at the Flynn Township Hall Thursday morning. According to the Sanilac County Sheriff's office, he voluntarily turned himself in yesterday afternoon and is being lodged in the Sanilac County Jail. Authorities say they thank the public and other area law enforcement agencies who assisted in the search for Roll.
ORIGINAL STORY:
The Sanilac County Sheriff's Office is looking for an inmate who walked away during a work crew program. Aaron Anthony Roll was last seen in Flynn Township area around 10:20am Thursday. He is described as a 27 year old white male, approximately 189 pounds, and 5-foot 11-inches tall.
"Our work crew was conducting maintenance at the Flynn Township Hall, at Peck Road and Shepard Road," Sheriff Paul Rich told WPHM. "During the course of mowing lawns… and doing other maintenance, the inmate just disappeared out of sight and walked away into the woods."
Sheriff Rich adds that the people assigned to the work crews have to meet certain guidelines, such as being non sex offenders. Roll was last seen wearing a white tee shirt and orange inmate pants. Those who may have seen or have any additional information about his whereabouts are asked to contact Sanilac County Central Dispatch at 1-800-881-5911 Ext. 2 or by dialing 9-1-1.