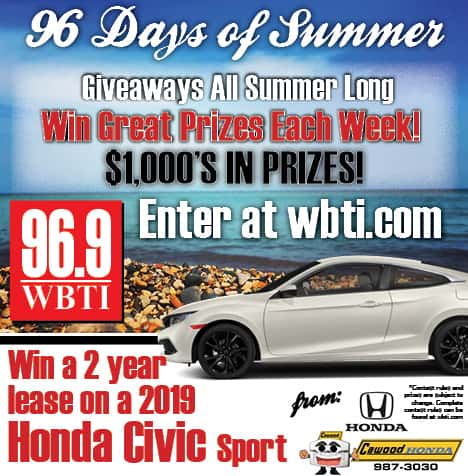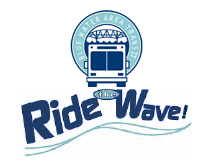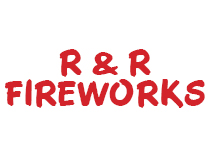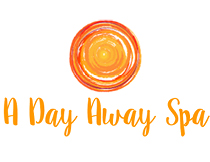 FILL OUT THE FORM BELOW AND YOU'LL BE ENTERED ALL SUMMER LONG!
THEN, LISTEN FRIDAY MORNINGS TO FIND OUT IF YOU WON!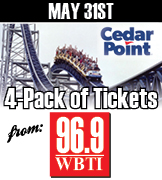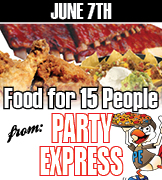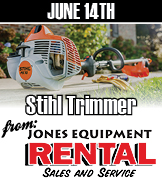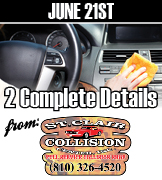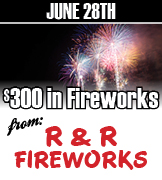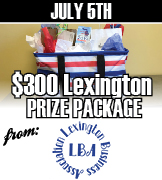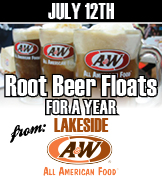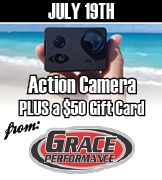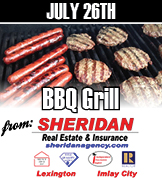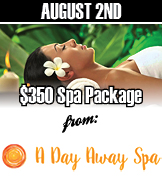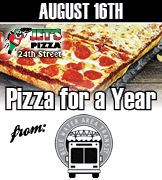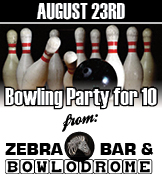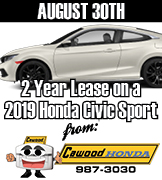 Official Contest Rules:
Enter to win at wbti.com or by coming to 808 Huron Ave. Port Huron, MI 48060 (between the hours of 8:30am and 4:30pm Monday – Friday)
Must be 18 to enter. Entries consist of full name, phone number, city and email address. No purchase required. One entry, per person.
Winners are selected at random. Winners announced on Friday mornings (May 31st – August 23rd, 2019) at 7:50am on 96.9 WBTI.
By entering in the 96 Days of Summer Contest, you concede to being featured on 96.9 WBTI, and on wbti.com for the duration of the contest.
Only one prize per person during the duration of the contest.  Weekly prizes have no cash value. Grand prize of 2 year lease on a new Honda Civic Sport can be exchanged for a $2,500 cash prize and/or in lieu of unqualified credit score required of Honda's two year lease agreement.
96.9 WBTI management has final say in contesting decisions.
Contest rules are available at the 96.9 WBTI studios, and on wbti.com.
Each sponsored week, May 31st – August 23, 2019, will have one winner, who will receive the prize featured on the 96 Days of Summer page on wbti.com that week.  Winner is responsible for all applicable taxes. Employees of the radio station, contest sponsors and their immediate families are not eligible to win. Winners do not have to be present to win. Prizes do not include delivery. Winner is responsible for applicable taxes. 96.9 WBTI reserves the right to alter these rules at any time for any reason.
There will only be one grand prize winner. A grand prize winner will receive the use of a 2019 Honda Civic Sport for a period of 24-months. This is a 24-month closed end lease with a maximum allowable mileage of 30,000 for the period of the lease equal to 15,000 miles per year.  The cash value of the grand prize is $7,000. If the grand prize winner is unable to meet required qualifications for accepting grand prize, winner can choose to accept a $2,500 cash prize.
Conditions of Acceptance of Prize.  The Grand Prize Winner agrees to assume the responsibilities described in the paragraph above.  In addition, the Grand Prize Winner must provide Cawood Honda with a driver's license or other appropriate government-issued picture identification, as a condition of claiming the prize.  The winner must take possession of his or her prize by September 28, 2018 or the prize will be forfeited.  Winner may waive his/her right to receive a prize.  The prize is non-assignable and nontransferable.  A cash equivalent of $2,500 may be permitted, but at the sole discretion of Cawood Civic and RadioFirst.  Prizes and individual components of prize packages are subject to availability. The Grand Prize Winner must complete an affidavit of eligibility and a liability and publicity release (except where prohibited by law), which must be returned to the Sponsors within one day of being declared the winner, or within such other timeframe as is specified by the Sponsor.  Failure to timely sign and return the affidavit and release, or to comply with any other term or condition of these Official Rules, may, in the Sponsors' discretion, result in a winner' s disqualification and the forfeiture of his or her interest in the prize.  The Grand Prize winner will also be required to sign other paperwork, including but not limited to the lease.  Any prize not won and claimed by an eligible winner in accordance with these Official Rules will not be awarded and will remain the property of Cawood Honda.  The winner will be solely responsible for reporting and payment of any and all local, state, and federal taxes applicable to the prize, as well as license, a $395 processing fee, registration fees, tag, and other incidental costs incurred by participating in the Contest.  The Grand Prize winner must provide proof of full coverage auto insurance through a company licensed to conduct business in Michigan at time of possession. That full coverage insurance must remain in force for the entire 24-month lease period, and failure to do so will result in additional charges to the winner and/or forfeiture of the 2016 Civic. Cawood Honda will report any individual winnings over $600 (in cash or fair market value of goods or services) in a one year period to the Internal Revenue Service, the winner will receive a Form 1099 from Cawood Honda.
All contest entries will become the property of RadioFirst and WBTI and will not be acknowledged or returned.
Release
By entering, all participants agree to release and hold harmless the promotion sponsors, 96.9 WBTI, Liggett Communications, LLC., and each of their respective parents, subsidiaries, affiliates, directors, officers, employees and agents from any and all liability and any injuries, loss or damage of any kind arising from or in connection with this contest and any prize won.
Disclaimer
96.9 WBTI undertakes no liability or responsibility, and makes no warranties, express or implied, with respect to the performance of the prize(s) awarded, for any failure to perform or negligent performance of any service provider, or for any other risk, incident or damage, direct or indirect, relating to or arising out of the contest, including (but not limited to) cancellations, postponements, delays or other scheduling changes; missed events or connections or inability of winner to attend; and accident, injury, death, damage or expense arising from or occurring during the use of the prize, or travel to/from or attendance at any event relating to the contest, by the winner and/or winner's guest(s). 96.9 WBTI is not responsible for damage to a prize or loss of a prize after the prize has been claimed. Winners must inspect their prizes before leaving the station.
License
Entry into any contest constitutes full permission for 96.9 WBTI and promotion sponsors and their respective affiliates to broadcast and/or to photograph or publish the participant's name, voice, recorded comments, biographical information, face and likeness without compensation.
General
Failure to conform to all contest rules, or any fraud or other illegal or inappropriate conduct on the part of a contestant or on a contestant's behalf, will result in the contestant's disqualification and forfeiture of any prize won. 96.9 WBTI reserves the right to rule ineligible listeners who, in 96.9 WBTI's sole judgment, engage in abusive conduct with respect to any contest or promotion conducted by 96.9 WBTI or its affiliates. 96.9 WBTI reserves the right to cancel, suspend and/or modify this Contest and these Official Rules at any time, which changes will become effective upon announcement.
No purchase necessary. Void where prohibited. All federal, state and local laws and regulations apply.