Ben Coburn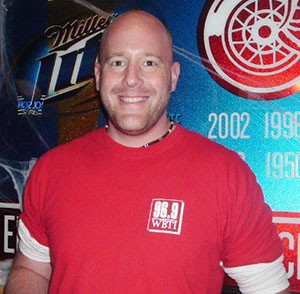 When are you on the air?
Weekdays, Noon to 6
What do you like to do when you're not on the air?
I like to play and watch sports. I play hockey, softball, and golf. I'm a huge Tigers, Lions, and Red Wings fan.
Are you from Port Huron?
Nope! I grew up in Troy, but I've lived here for a long time now.
Do you live in Port Huron now?
Yup! Would you like the address?
What's your favorite spot to hang out in Port Huron?
McMorran for hockey, both playing and watching. Willow Ridge in the summer. I love golf, but I'm not every good. I love Cheap Charlie's, Casey's, Thumbcoast, and you can't go wrong ending the night at Skidgies!
What's your relationship status?
That's a personal question.
Who are your favorite artists on WBTI?
Music on the station is always cycling based on whats popular. I'll go with all the above except Beiber. How he became cool again is beyond me?! Although, some of his songs are annoyingly catchy. It appears as though I just answered my question.
What's the best part about working on WBTI?
There's a very fun and casual way about this place. We all work hard, but we're allowed to embrace the "fun factor" of what we do for a living. For instance, I like to play Connect-4 during working hours.
And, the worst?
Matt Markham from Q Country 107. I need a new assistant.
If you weren't in radio, what would you do for a living?
Honestly, no clue. This is all I really know. But if I had to pick: Pharmaceutical Sales
How long have you been in radio?
Since 1998.
What is your spirit animal?
A Liger? I have no idea.
Would you sky dive?
Maybe. I'm open to the idea. I do have some risk taking tendencies.
What's your favorite color?
Blue.
Who pays on the first date?
Nobody. The savvy play is to use a gift card. Impress your date with your thrifty-ness!
When was the last time you stayed up all night?
Probably the last time I went to Las Vegas.
Have you even seen a ghost?
No. I don't think I want to either. Spooky.
If you had to live off one food, what would it be?
Pizza. I mean, I named my cat Pizzza. Yes, the spelling is correct. She's French Canadian.
Anything else?
I think that's about it. Thanks for listening!