Conrad Reed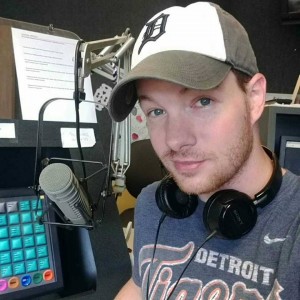 When are you on the air?
I'm one who isn't Kacie Kelly on Conrad & Kacie weekdays from 5:30a – 9:00a. You can also hear me on Saturdays from 10:00a – 2:00p.
What do you like to do when you're not on the air? 
Playing video games and watching Netflix with my cat and girlfriend. If the weather permits, I'll take a reflective walk along the water as if I'm in a 90's music video.
Are you from Port Huron? 
Nope, I'm from Hazel Park. It's a little north of 8 Mile, so I bring street cred WBTI. Dawg.
Do you live in Port Huron now? 
I sure do! Right off of the St. Clair River and it's gorgeous!
What's your favorite spot to hang out in Port Huron?
I fly my Geek Flag proudly, so whenever I have company in from out of town I take them to The Raven Cafe and Cool City Games.
Who are your favorite artists on WBTI?
Andy Grammer, Adele (Take away my Man Card if you want), Fallout Boy, Imagine Dragons, Mumford and Sons, Paramore
What's the best part about working on WBTI?
It's probably the most fun I've ever had while getting paid!
And, the worst? 
Scraping the ice off my car early in the morning! It's the woooooooorst.
If you weren't in radio, what would you do for a living?
Probably something in promotions or public relations because I work well with people.
How long have you been in radio?
It's been around 11 1/2 years since I got bit by the radio bug.
What is your spirit animal?
A fox because that's what the Facebook quiz told me.
Would you sky dive? 
I actually tried to sky dive for my 30th birthday, but all my friends bailed on me. Maybe this will be the year!
What's your favorite color?
Blue and gray.
Who pays on the first date? 
Depends on how much money my mom gives me.
When was the last time you stayed up all night?
A couple of weekends ago while I was hanging out with friends. I'm still young enough to sacrifice sleep for fun, but I'm old enough to start regretting it.
Have you ever seen a ghost? 
I do believe the RadioFirst building is haunted by the old General Manager. There's been too many instances or my headphones moving by themselves and speakers blaring static for no reason to be coincidental. But I've never actually SEEN a ghost.
If you had to live off one food, what would it be?
Taco Bell, though on that diet I might not live very long.
Anything else? 
If you ever need someone to sit in on Dungeons & Dragons, I play a pretty good Half-Elf Sorcerer.
Otherwise, if YOU want to know anything else you can shoot me a tweet: @ConradOnAir