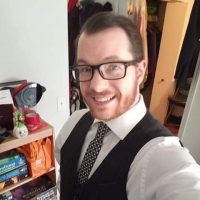 Conrad Reed
WHERE WERE YOU BORN?
I was actually born in Mesquite, TX. But my family moved to Michigan after a month or so and I've been here ever since!
WHAT'S YOUR FAVORITE FOOD?
I'd say it's a toss up between pizza and chicken wings. I know they're not the healthiest choices, but we have too many good places to eat in the Blue Water Area!
WHAT'S YOUR LEAST FAVORITE FOOD?
Oh, tomatoes. Hands down. Can't stand the taste OR the texture. They just gross me out. I'm a big fan of Bloody Marys though!
DO YOU HAVE ANY KIDS AND/OR PETS?
I have a cat named Seren I rescued off the freeway near the Detroit Zoo. She's a snuggler and one of the best things about going home.
WHAT'S YOUR FAVORITE PART ABOUT BEING IN THE BLUE WATER AREA?
I love living so close to the water! Being from a suburb in Detroit I was never too far away, but being able to drive five minutes to Lake Huron is something special.
IF YOU WEREN'T WORKING IN RADIO, WHAT DO YOU THINK YOU'D BE DOING?
I think I'd be working for a non-profit of some kind. I've always liked helping people.
WHAT'S YOUR FAVORITE MUSIC TO LISTEN TO?
As much as I enjoy all the RadioFirst stations, I'm a sucker for Broadway Musicals. I'm a theatre geek from way back, so I'll usually play something I can sing to while doing chores around my apartment.
WHAT'S YOUR FAVORITE SEASON?
Fall. I mean, what's there not to like? Beautiful leaves, sweater weather, Halloween, my birthday. It's just amazing!
WHEN NOT WORKING, WHAT ARE YOU TYPICALLY DOING?
Hanging out with my cat and girlfriend usually. I'm also a big gamer, so there's a pretty good chance I'm playing something on my Xbox, Switch, PC, or my phone. I also love board games and roleplaying games!
WHERE ON SOCIAL MEDIA CAN WE FIND YOU?
ConradOnAir is my Twitter that I'm very bad at updating. For most everything else, you can find me by searching for ConRadioActive.
ANYTHING ELSE YOU WANT TO SHARE?
Just what Bill and Ted say: Be excellent to each other!