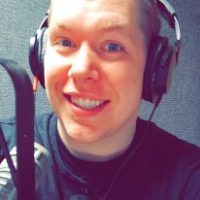 Where were you born and raised ?
I was born and raised I'm St.Clair, later moved to Rochester for college.
A typical breakfast?
Eggs with cheese is where it's at, or if I'm being adventures a bowl of captain crunch on the weekend.
Married? Kids? Animals?
I am married, no kids unless you include my dog Auggie 🙂
Spare Time ?
I love to be active,kayaking,the gym,sporting events, hanging with my family n friends.
Favorite concert ?
I saw Alan Jackson a few years ago and nothing will top that, I grew up listening to him so it was surreal.
Favorite restaurants ?
I am easily pleased with either pizza, or olive garden as long as I can carb nap after.
Memorable on-air moment? 
I interviewed NBC hockey broadcast legend Mike Emrick.