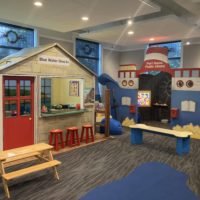 It will soon be easier for low income families to experience several local historic sites. The Port Huron Museum will be offering free passes to their Carnegie Center, Huron Light Ship, Fort Gratiot Light House, and Thomas Edison Depot museum to families that qualify. Executive Director of the Port Huron Museum Veronica Campbell says it wouldn't be possible without a gift from a local non- profit.
"The James Acheson Foundation has generously given $10,000 to go towards families with CBT or bridge card," said Campbell. "They can come to any museum site and get a family Huron Experience pass and are able to visit all four of our sites for completely free."
The announcement is just in time for a new children's exhibit inside the Carnegie Center. Called "Discovery City" and opening September 22nd, the new exhibit features a small scale city that helps tell the history of the community. The exhibit was purchased by the city from the Minnesota Children's Museum for nearly $54,000 earlier this year. Tickets for the exhibit can be purchased at porthurondiscoverycity.com.