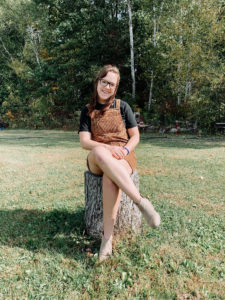 WHERE WERE YOU BORN?
Right here in the Port!
WHAT'S YOUR FAVORITE FOOD?
Anything that's vegan!
WHAT'S YOUR LEAST FAVORITE FOOD?
Anything that isn't vegan 
DO YOU HAVE ANY KIDS AND/OR PETS?
Nah. I'm looking to get a dog though so hopefully soon!
WHAT'S YOUR FAVORITE PART ABOUT BEING IN THE BLUE WATER AREA?
The boardwalk! I think the area is so beautiful and I love daydreaming by the water
IF YOU WEREN'T WORKING IN RADIO, WHAT DO YOU THINK YOU'D BE DOING?
Honestly I don't know. Don't even wanna think about that because I love being on air!
WHAT'S YOUR FAVORITE MUSIC TO LISTEN TO?
Anything on 96.9 WBTI! 
WHAT'S YOUR FAVORITE SEASON?
Christmas!! Makes sense since I was born so close to the holiday!
WHEN NOT WORKING, WHAT ARE YOU TYPICALLY DOING?
Hanging out with Brad from ROCK 105.5 or taking Disney trips 
WHERE ON SOCIAL MEDIA CAN WE FIND YOU?
I'm on Snapchat, Instagram, and Facebook! Just search Lizzy George!
ANYTHING ELSE YOU WANT TO SHARE
I'm a huge Disney fan and love taking adventures! Other than that, thanks for listening!