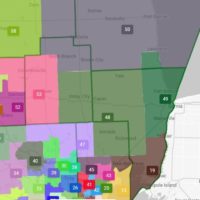 Public hearings will take place next week regarding the proposed state house, state senate, and congressional maps drafted by the Michigan Independent Citizens Redistricting Commission. Following the redistricting commission closely is Gongwer News reporter Ben Solis who tells WPHM the public comment process expected to whittle down the draft maps from the current ten proposals to one.
"We're at the end of the mapping phase, they've worked to try to dial down these maps as much as they can in terms of partisan fairness," said at Solis. "So now we're at the phase where they are finally deliberate and move these (maps) forward to the public and there's going to be some public hearings for those maps as well."
Solis says some of the drafts tend to favor Republicans over Democrats, however it is a lesser advantage than what the GOP has under the current maps. He adds that one of the proposed congressional maps is a "near 50/50 split" in terms of partisan fairness. Public hearings will take place in Grand Rapids Monday, Detroit Wednesday, and Lansing Thursday. More information on how to attend those sessions either in person or virtually can be found at michigan.gov/micrc.