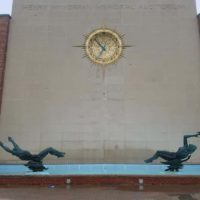 Port Huron City Council meets tonight in their first regular session meeting of the New Year. Tonight's agenda includes a bid for repair work at the historic Marshall Fredericks McMorran Place fountain. The nearly $39,000 quote is from National Restoration Inc of Milford, Michigan and would come from the McMorran Fund. Work includes removing and replacing damaged brick, new concrete , and paint.
Also tonight, council will be asked to accept a bid for electrical control panel work a the Wastewater Treatment plant for nearly $280,000 to J. Ranack Electric. They are also poised to approve $26,000 of new ballistic from On Duty Gear shields for use by the Port Huron Police Department.
Two ordinances, both dealing with the rezoning of lots on Military Street adjacent to All-Start Services in order to allow for a building expansion, will have their second reading and likely be enacted tonight. Port Huron City Council meets at 7pm at the Municipal Office Center.