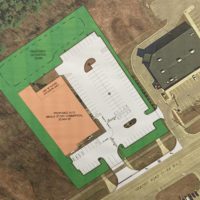 A new commercial development has been approved for Kimball Township. Planning Commission members Tuesday night approved site plans for a new 20,000 square foot Aldi Store to be located just west of the CVS at Range and Gratiot Roads. Township Supervisor Rob Usakowski, who was in the audience for last night's meeting, says Kimball has been approached for other commercial and industrial projects, but one of the barriers to winning those projects has been the township's master plan.
"That's something I think we need to look at moving forward," Usakowski told WPHM. "We need to make sure that our future land use is sufficient to accommodate for other development. We still have some smaller developments that are in the works, Culver's being one."
Plans for that Culver's, also eying the area of Range and Gratiot, were not included on last night's agenda for the planning commission. Usakowski says updating the township's master plan to include some of those changes could cost between $6,000 and $10,00 dollars and could be a good use for their over million dollars in federal COVID-19 relief. The township board will also be sending out surveys to residents to better gauge where that money should be spent.