Kick off the Weekend with Furry Friday!
Meet Ninja & Bandit!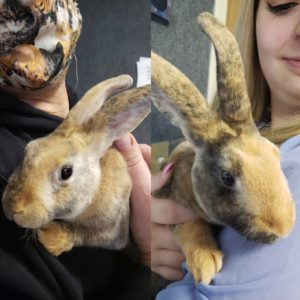 The St. Clair County Animal Control introduced us to a cute pair of bunnies this morning! Six of these cuties were picked up after being abandoned (which is why the Animal Control advises against bunny adoption around Easter). At less than a year old, they're the perfect age to find new Forever Homes! We even got to name them: Bandit has darker fur over one eye and Ninja is more lightly colored. These two were little explorers and loved being held and cuddled! Check out our FB Live video below!
Bunnies are just $15 to adopt!
Cat adoptions at $75 and dog adoptions are $120! All adoptions come with updated shots, spaying/neutering, licensing, and microchipping.
Make an appointment today! Call the St. Clair County Animal Control at (810) 984-3155 or visit them on Facebook!
Furry Friday is sponsored by the Black River Veterinary Clinic.