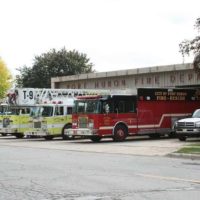 Port Huron City Council took the first steps Monday to revamp the city's three fire stations, starting with station number three on Sanborn Street on the city's north end. Yet it was a station on opposite side of town, number four on 24th street, that was the focus of a nearly hour long public comment period. A preliminary study by a consultant last year showed that replacing the current central station with a new station on 10th Street could result in a consolidation with station number four. That had neighborhood residents, such as Maria Pilar Gonzales, flocking to council chambers to let their voices be heard.
"I'm a disabled elderly woman and my husband is a disabled elder man," Gonzales told WPHM. "You can only imagine what that would mean to us, having to wait an extra minute or two, could mean life or death."
Fire Chief Corey Nicholson telling WPHM last night the two station model was just one of many ideas brought fourth in the study, saying it would only be considered if staffing levels remain stagnate or continued to decline. He says further discussions have left him hopeful that trend can be reversed.
"The current manpower in the city was established during the last cut in 2017," Nicholson said.
"We received some additional direction from the city manager about the possibility of increasing roster strength," with Nicholson saying it would help solve the city's current man power issue.
City officials reiterated that they will engage with the community before any final decision is made regarding the south end fire station.
No action was taken regarding station four last night, but council did approve a $1.5 million dollar plan to rehab station number three on the north end near Sanborn Park. Partners in Architecture would serve as the architect with the Dailey Company acting as general contractor.