Fall into Furry Friday!
Meet Ursa!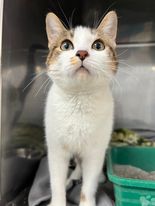 The St. Clair County Animal Control wants you to meet Ursa! She's a 10 month old harlequin tabby with a HUGE personality. She likes to give a little attitude, but when you catch her in a good mood, all she wants to do is cuddle with you and fall asleep. Ursa is arguably an attention hog though, so a loving home without other cats would be best so that she doesn't have to share the love and attention. The Animal Control thinks Ursa would make a great movie watching companion as it gets closer to the holiday season, so go visit Ursa in the Cat Room today!
Cat adoptions at $75 and dog adoptions are $120! All adoptions come with updated shots, spaying/neutering, licensing, and microchipping.
Volunteer, foster, or make an appointment today! Call the St. Clair County Animal Control at (810) 984-3155 or visit them on Facebook!
Furry Friday is sponsored by the Black River Veterinary Clinic.