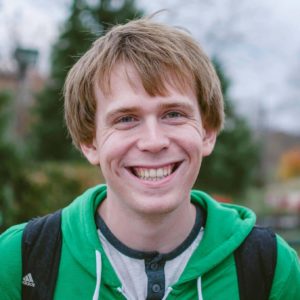 How long have you been in radio?
Almost thee years!
Where are you from?
Originally from St. Clair. I'm a Blue Water Area original.
My favorite place to hangout in Port Huron?
Can't beat bar hopping through downtown Port Huron.
Relationship status?
Yep! My girlfriend Lizzy also used to work in radio!
Any pets?
None at the moment, but hopefully someday!
If you could eat one food for the rest of your life, what would it be?
I love cheeseburgers. Eating them everyday might make my life pretty short though.
All time favorite movie?
Jurassic Park
Describe yourself in 3 words.
Energetic, sarcastic, thoughtful
If you could live anywhere in the world where would it be?
I've always thought it would be great to live in Seattle, partly because I drink several cups of coffee a day.
If radio wasn't an option, what would you wanna be?
I've always wanted to be a writer of some kind.
What's your most irrational fear?
Spiders
What is your favorite alternative band?
Tough to narrow it down to one, but I think I would give the edge to The Killers.
Top 5 Favorite Musical Bands:
The Killers, The White Stripes, The Black Keys, The Strokes, INXS
If you could have any superpower, what would it be?
Being able to fly would be nice. I'd probably save a lot of gas money.
Do you have any weird talents?
I can do a cool spin trick with a pencil, but it's honestly not that impressive.
Who is your biggest celebrity crush?
Emma Watson
What TV shows do you watch religiously?
I've probably seen every episode of Seinfeld and The Office multiple times
What's your most embarrassing moment?
I once wore my shirt inside out for nearly half a day before I noticed anything was wrong!
If you could choose a theme song for yourself what would it be?
One week by The Barenaked Ladies
Is there anything else we need to know about you?
Not right now, but I'll be sure to keep you updated every weekday afternoon!