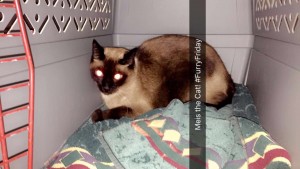 This is Meis! He's a 7 year old Siamese male. He has a gorgeous coat with sea foam green eyes. He is very calm and likes to lay around. He doesn't mind being around groups of people and is looking for a home that will keep him for life!
You can find out how to adopt him through the St. Clair County Sheriff's Animal Control by clicking HERE. Furry Friday's are brought to you by Jones Equipment Rental, Sales and Services
Check out Meis LIVE in the studio below!
Happy #FurryFriday ! We have a Siamese cat named Meis! Furry Fridays are brought to you by Jones Equipment Rental, Sales and Service !

Posted by 96.9 WBTI on Friday, February 10, 2017