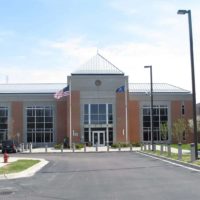 In accordance with Governor Whtimer's "Stay home, Stay Safe" executive order earlier this week, additional county government services and agencies have been closed. All St. Clair County Offices and Facilities are now closed to the public and only essential services will be provided through April 13th. Some of those essential services that remain in operation include the Sheriff's office, county jail, landfill, and the emergency management office. Household hazardous waste will not be accepted at the landfill for the time being, and cash payments at the landfill have been suspended.
The St. Clair County Sheriff's Office is providing clarification on how you can still register a pistol during this time of essential staffing only. Officials say after buying a pistol, you can send the pistol sales record to the St. Clair County Sheriff's Office. Or, you can drop off a sales record in a drop box at their Michigan Road headquarters in Port Huron Township. The records will then be updated by county officials at their earliest convince.
The public is asked to conduct as much business a possible through the county's website, stclaircounty.org, or via phone or mail.